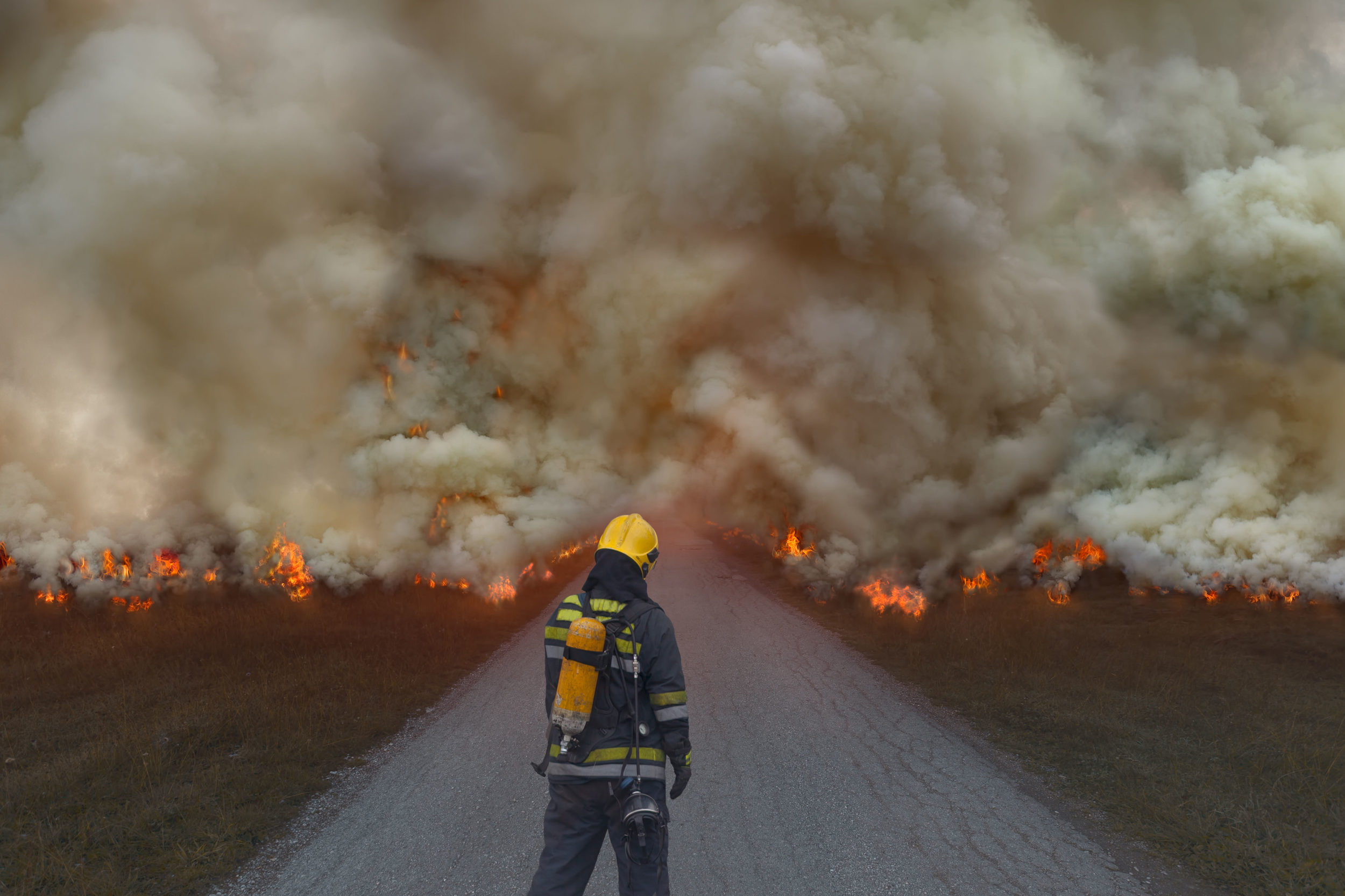 PROTECTION | PREVENTION | PLANNING
THE WILDFIRE HUNTER
WILDFIRE - BUSHFIRE - FIRESTORM
... words that describe catastrophes. BUT these words are not enough to convey the absolute pain and horror that is devastating communities across the world.
FIRST COMES THE FIRE FRONT...
Then thick, choking smoke covering all in its path.
Sunlight, is quickly snuffed out.
Through the smothering darkness, and fanned by the strong winds, The wildfire roars into life.
Showers of burning embers drop out of the sky. Lethal cinders turn homes into ash, cars burn and engine-blocks melt.
Many panic, some make it to safety, others don't.
Farm animals & fauna stampede. They are trapped - or tangled-up in fences - and perish when the flames overtake them.
Families and towns are devastated.
The frequency and intensity of these destructive events is increasing. Governments, firefighters and communities are struggling to address this burning issue. Sometimes, fires rage out of control. They are so fierce and travel so fast, that there is not enough time, equipment or resources to stop them.
When this happens, you and your family are really on your own.
It is too late to effectively do anything to stop the on-rushing wall of flames. Even if there are water-bombing aircraft close-by, ready to dump tons of water on the fire-front...it may still not be enough...
PREPARATION IS THE KEY TO SURVIVAL
So....how will you prepare your home and your family for surviving these wildfire events?
Origins of The Wildfire Hunter
Over the past few years, the Australian nation has seen the most devastating long-term drought in its history. This has significantly increased both the frequency and the intensity of wildfires during this past decade. Some examples include:
Canberra - Australia's Capital - 2003
To the south and west of Canberra, bush fires combined to form a huge firestorm that drove into the western suburbs. It claimed the lives of 4 people, injured many more and destroyed over 500 homes.
Victoria - 2009
On Saturday, February 7th, massive firestorms raged through parts of Victoria. Families and towns were virtually wiped out. With 173 deaths, many injuries and the widespread destruction of towns, farms and livestock, this stands as Australia's worst 'natural disaster.'
The aim of this website is to help people to better prepare themselves for these catastrophic events.
Battling wildfires is not just about firefighting strategies and tactics - although these elements will also be featured. The first part in any endeavour is preparation.
Preparation for wildfires includes preparing yourself - your family, home and environment. Your fire plan must include everything to ensure your survival.
" By failing to prepare you are preparing to fail."
~ Benjamin Franklin
This website will provide you with tips, resources, research, and national and community initiatives to prepare and protect yourself, your family, your community and your belongings from unnecessary wild fires.
More complex tactics that State and Federal Authorities can implement to significantly reduce these destructive events will also be included as discussion and lobbying topics.
To get the most from this site, READ:
Foundations - how wildfires start and build momentum, the water cycle and the environmental impacts of wildfires.
Articles - written for various regions and discussing topics including problems, solutions, research papers, history, government actions.
TAKE ACTION - prepare your home and your family, lobby your councils and government, subscribe for updates and be vigilant.
"Never doubt that a small group of thoughtful committed citizens can change the world; indeed, it is the only thing that ever has."
~~ Margaret Mead
Graham Bates lives in Australia and has been researching the various causes and effects of bush fires/wildfires since 2006. With a background of research and analysis within the Australian Department of Defence, Graham has been developing new strategies and tactics to protect people and communities from these catastrophic events.
Follow us for regular updates